KUALA LUMPUR SOCIETY OF THE DEAF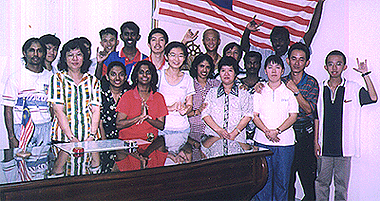 KLSD is a self-help organization administered by the Deaf for the Deaf & hard of hearing who are the residents in Kuala Lumpur. We are obligated to the task in upgrading the qualities of life of our targeted group in Malaysia, securing equal rights and opportunities by bringing them together to work collectively and fraternally for the socio-economic advancement with the view of enabling themselves to become responsible, useful and productive citizens.
---
Objectives
To unite the Deaf individuals and in working together for mutual socio-

economic advancement and common good
To uphold rights of all deaf individuals, to live as normal citizens of the

country and to promote their legitimate interest.
To guide its members in the enhancement of their careers and develop their

careers and leadership qualities.
---
Affiliated with
Malaysian Federation of the Deaf
Malaysian Sports Federation of the Deaf
Majlis Kebajikan Masyarakat W.P. Kuala Lumpur
---
Our Services
Human Services –

Job placement

Peers and social counseling

Telephone / fax relay service

Communication Access –

Providing sign language interpretation for media,

Official and social functions

Weekly / monthly assembly at industrial factories for

the deaf workers

Medical and legal advice

Community Education –

Deaf awareness programmes

Conducting sign language classes for public

Early intervention programme

Advocacy –

Women section

Teen section

Information

Sports & Recreational
---
ADDRESS
Persatuan Orang Pekak Kuala Lumpur

Kuala Lumpur Society of the Deaf

9B, Kompleks Perniagaan Sri Selangor

Jalan San Peng, 55200 Kuala Lumpur, MALAYSIA

Tel.: 603-223 0690 / 223 2164 Fax.: 603-222 6536

E-mail: klsdeaf@pop.jaring.my

Website: http://www.jaring.my/klsdeaf
---
Copyright © 2000 XPM.COM
All Rights Reserved