YWCA - VOCATIONAL TRAINING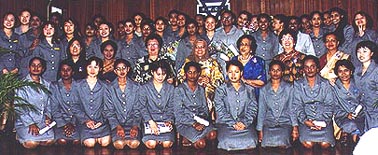 BRIEF INTRODUCTION
The VTOC commenced on 1st September 1998 with 56 trainees comprising Malays, Indians, Senoi, Kadazans, Iban & Chinese.
This is a project, which seeks to serve the needs of young girls and women from the economically depressed segment of our society, irrespective of race or religion.
---
OBJECTIVES
Developmental Training – such that will lead to more advanced courses & apprenticeship prospects.

Entrepreneurial Training - enabling the more enterprising trainees to become self-supporting & thus initiating some small-scale income producing business.
---
The Courses of Study
Kindergarten Teachers Training

Computer, Secretarial & Basic Accounting

Sewing & Training

Culinary & Bakery

Housekeeping

Beauty Care & Hair Dressing

Health Care Training

Art & Craft

Basic Electrical Training
---
We highly appreciate any well wishers who would offer the following types of contribution:
Volunteer / Big Sister

Sponsor a trainee at the VTOC for yearly basis

General donation (made to the "YMCA of Kuala Lumpur", tax exempted)
---
ADDRESS
The Executive Director

Vocational Training Opportunity Centre

YWCA of Kuala Lumpur

12, Jalan Hang Jebat

50150 Kuala Lumpur, MALAYSIA

Tel./Fax.: 603-206 7753

E-mail: ywcakl@po.jaring.my
---
Copyright © 2000 XPM.COM
All Rights Reserved