MRCS Sunflower Centre (Miri)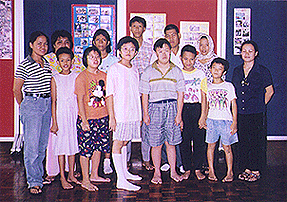 brief introduction
Started in 1982 at the headquarters of the Red Crescent. The Structure of the Centre includes pediatrician, physiotherapist, psychologist, speech therapist & qualified teacher. Today the centre currently has about 86 students with special needs & 11 members of staff.
---
Types of Disabilities
---
Objectives
Further training, for guidance, for support & encouragement, maintaining this
---
Therapy programme & activities
Social & Life Skill Needs,

Behavioral-Emotional Needs,

Special Educational Needs,

Physiotherapy,

Vocational Programme,

Early Intervention Programme
---
What do I do when I meet a person with special needs?
Avoid stopping & staring; Just be natural & treat them as other person; Try to remember that people with special needs need the opportunity to blend into the society & get the chance to live as normal a life as possible (go to school, shopping & to find a job). Only it is a bigger challenge & a lot of hard work for them to do so. We should understand, help & respect them for that.
How can the community help make their lives easier?
Incorporate their needs into future construction projects such as ramps or railing at all public buildings, pedestrian crossing, park paths, entrances, pavements and toilets.
How can we avoid some of their problems in the future?
Be aware of health care programs such as immunization (against rubella which may cause complication during pregnancy). Take special care during pregnancy. Avoid smoking & eat healthy food. Approach your doctor if you have any medical history in your family, which, with medical guidance, will avoid problems later on.
---
Funding
The centre is maintained through donations from the public. We would be very grateful if volunteers could help conduct a variety of activities. We welcome any new ideas & visits from all well-wishers.
---
Address
MRCS Sunflower Centre

Jalan Sabit Merah, Lot 302, Miri, Sarawak, Malaysia
TEL.: 085-420 722 FAX. : 085-420 476

Chairperson: Liza Chai Principal: Irene Awell
---
Copyright © 2000 XPM.COM
All Rights Reserved