RUMAH WAWASAN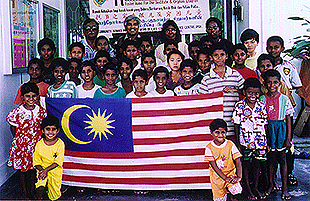 Rumah Wawasan, is a Foster Home for the underprivileged, abused, abandoned & orphaned children that is registered with "Jabatan Kebajikan Masyarakat Negara" & is a member of Social Welfare Council, Perak
We began our operation in early 1997 with two children & three residential staff in a rented house. Soon our Family grew and we had to move to our present location, a five-room double storey house. We now have a full house of thirty children under our love & care.
Rumah Wawasan is managed by a 7-member Committee & is also assisted by some professionals with good standing in the community as board of advisors & is supported by caring individuals, the public & concerned Institutions in Malaysia.
---
Aims & Goals
help children of all ages & races who are without parents or next of kin who

can take care of them & often times referred to as 'Orphans'

abused, abandoned, neglected by parents who are in themselves in need of

help due to illness, old age or other serious circumstances.

to build security, sense of dignity & hope for the future so they will become

good, responsible & law abiding citizens.

Provide Love, Care, Food, Clothing and Shelter

Provide physical, emotional and spiritual support

Provide education and teach living skills

Provide Counseling and moral guidance
---
ADDRESS
27, Taman Bunga Rose,
Off Jalan Raja Omar
32000 Sitiawan, Perak, Malaysia
Tel.: 605-6927 389
---
There are many ways in which you can help our Home, including donating in cash or in kind, sponsoring a child & visiting the home. Many have found the opportunity a fulfilling experience as they share their love and resources with the children of Rumah Wawasan. Other than that, you too can experience the same enriching and rewarding feeling as you share your love with the children in the following ways.
Tutoring the children

Invite the children for meal

Take the children for an outing

Buying food and educational items

Sponsor for a year's rental

Celebrate birthdays & other special days with the children
---
Copyright © 2000 XPM.COM
All Rights Reserved