RUMAH OZANAM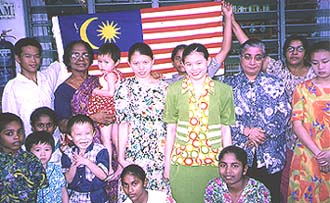 "A Home for the Homeless"
"A Beacon in the Night"
"An Oasis in the Wilderness"
"Filled With Hope and Compassion"
---
Brief Introduction
Since 1987 Rumah Ozanam has given shelter to a total of over 435 residents. They come from different painful circumstances and different faiths. Rumah Ozanam is a permanent shelter for the abused, neglected, abandoned and homeless children, which also provides temporary care for battered women and unwed mothers. It is run under the auspices of the St. Vincent de Paul Society which takes care of the needs of the poor and the marginalized.
---
Our Home
We are thankful for the compassionate and selfless energy that creates shelters for those assaulted by life's harshest climates, where love shields and heals wounds, where tears are dried and fears chased away, where the physically weak grow strong and the spirits flies high again with hope. Where education and loving discipline promise a future of opportunities.
---
Our Main Aims
To offer temporary shelter

To protect women and children from physical violence and abuse

To heal the emotionally abused through counseling

To provide care with love, compassion, kindness, understanding and support

To work towards social rehabilitation through skills, training, literacy & the development of positive self-worth

To foster re-unification of families through reconciliation and social adjustment
---
Activities
Medical and social care

Counseling

Foster care of children

Adoption programme

Education Opportunity

Skills training

Occupational employment

Recreational activities
---
Our Appeal
Rumah Ozanam remains dependent on the Humanitarian gestures of the society. Volunteers who offers their time, skill and talents to teach and nurture the children reap satisfaction in their observable progress. We give them a sense of family and belonging, the space and regard to empower their confidence and self-worth, and the spark to dream again.
Education is the foundation of our children's future. Rumah Ozanam appreciates the service and kindness of the current team of volunteers who give tuition in the various school subjects and in moral lessons. Given the encouragement and help, quite a few of our children are excelling in their studies. We are always grateful for more volunteers.
---
Generous financial and material support has enabled us to provide care and services to the vulnerable, homeless, abused, abandoned and battered. Now, our capacity needs to expand to accommodate those who are still on the outside around whom our arms cannot stretch. While others are waiting for a place, can we stand by in the shade & allow them to be blistered by the heart? We have extended into a second home and are in urgent need of funds for its construction and maintenance. We appeal for your kind donations to help us expand our outreach.
---
Foster Program & Sponsor Scheme
"Your One Gift Works Many Wonders"
Here then is an opportunity to jointly practice and manifest the intrinsic and fundamental goodness and beauty of our common humanity, and applaud the hope that springs eternal in the human heart.
If you wish to make a difference in a special way, you can foster a child in the caring environment of our home. You could also sponsor a specific child's daily needs and education by a monthly commitment of Malaysian Ringgit 50 or 100 for a year.
Either way, there is a promise of a better life for all. Contact us for further inquiries or please be welcome to our home.
---
How You Can Help Us
Through financial, material and moral support

By sharing your love and care

By providing us homes under our foster-care programme, thus enabling us to grow in a family environment

Through your prayers

Through the offer of voluntary service of your time, skills and talents
"We can achieve our goals"
---
CONTACT
RUMAH OZANAM
(Society of St. Vincent de Paul)
No. 1, Lorong 4 / 48 D,
Off Jalan Padang, Petaling Jaya,
46050 Selangor Darul Ehsan
MALAYSIA
Tel.# 603-791 9090
Fax.# 603-793 5593
President - Mrs. Elizabeth Vaz
---
Copyright © 2000 XPM.COM
All Rights Reserved